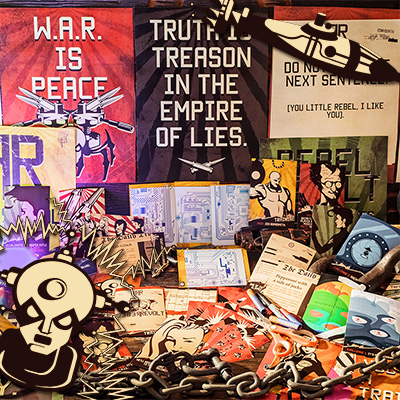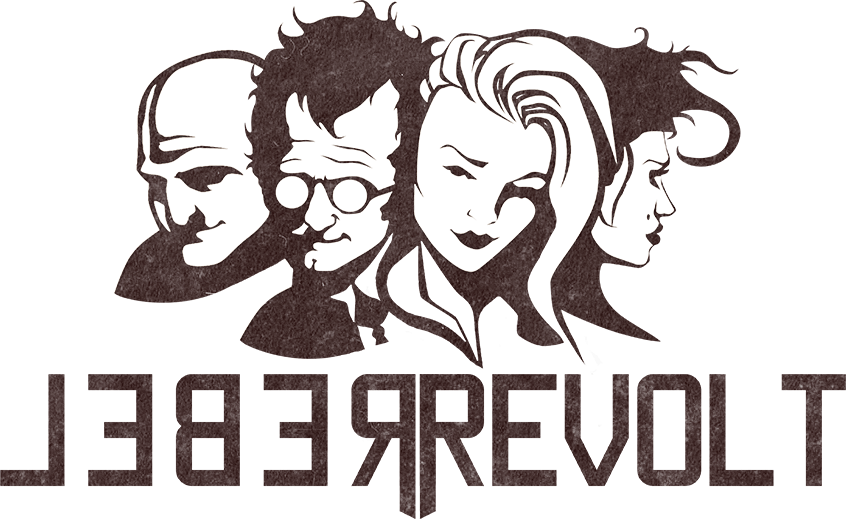 A treasonous escape room kit that transforms your home into a daring adventure.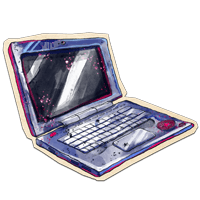 1: Download the Teens escape kit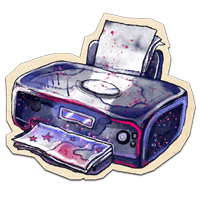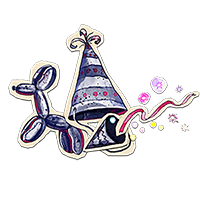 3: Carefree fun for 2+ players at home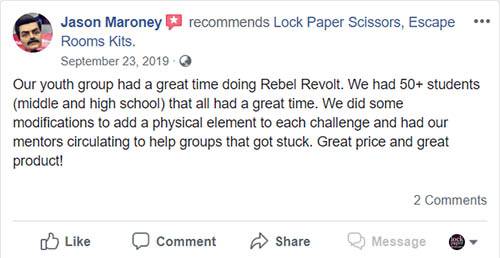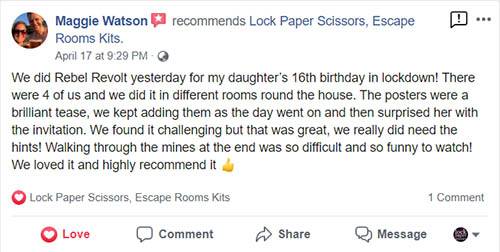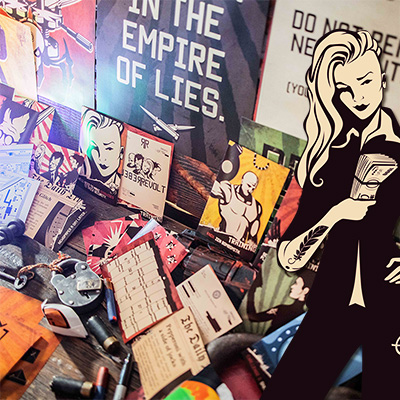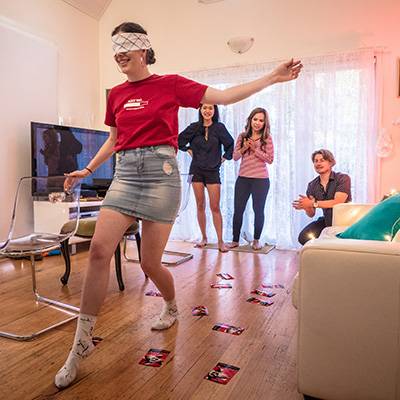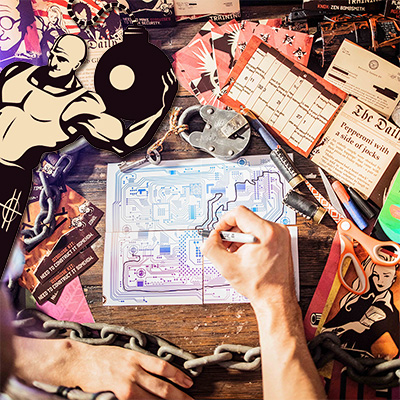 What You Get Inside Your $29 Stay At Home Escape Room Kit: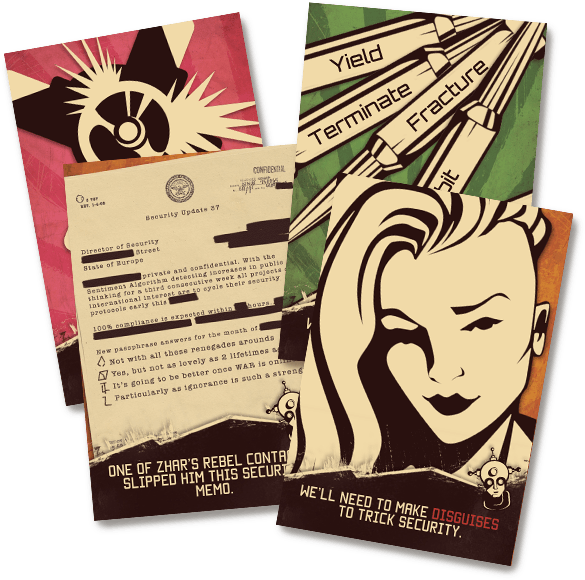 Save time with pre-made puzzles
Rebel Revolt is a complete escape room kit that comes with over 50 printable puzzle cards. It includes everything you need so you can get playing fast! (Comes with printable hints so you can play offline too!)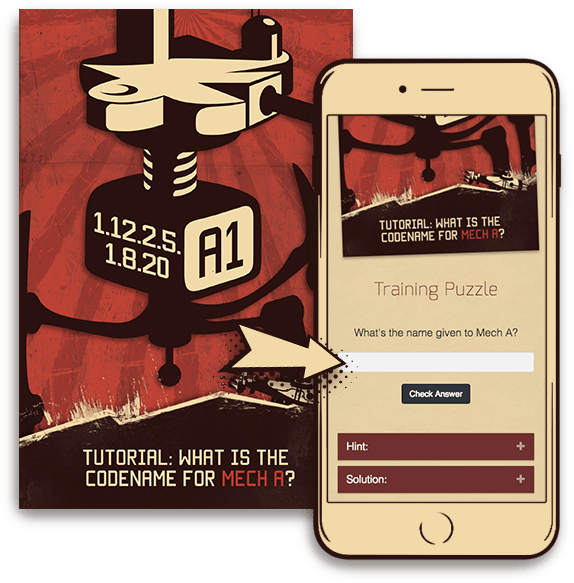 Easy To Follow Setup Instructions
Your nailbiting escape is super easy to set up and play. You may be trapped, but the step-by-step Mission Guide means you'll never be stuck.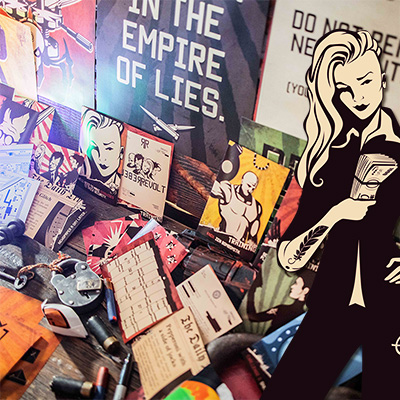 Super easy & cheap to print
You can print the escape room kit at home, work, an office store, or online via Amazon. Just print multiple copies for larger groups.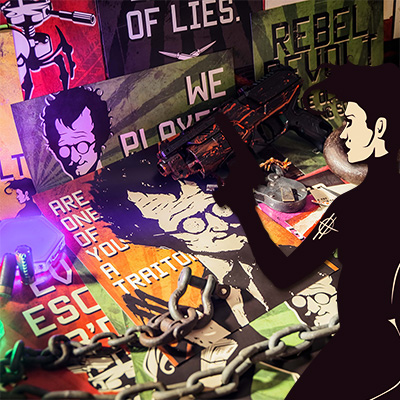 The kit comes with over 20 editable posters, as well as 4 party invites perfect for Facebook sharing or mailing to guests.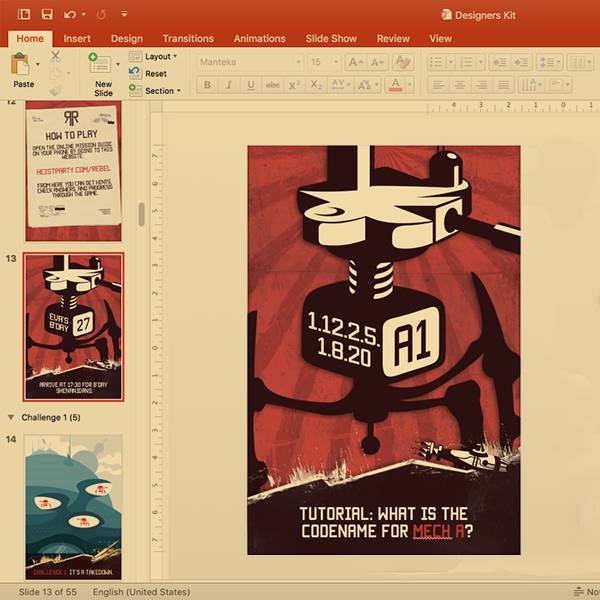 The complete Builder's Toolkit comes bundled with the game so you can customize it to your liking. It's in PowerPoint format so you can easily make as many changes as you like.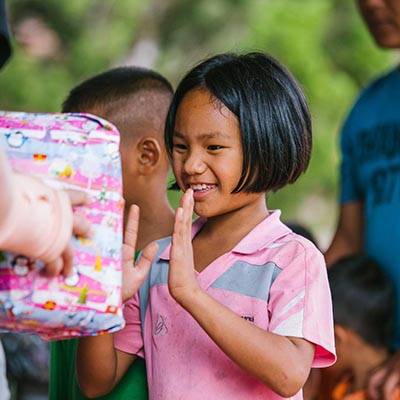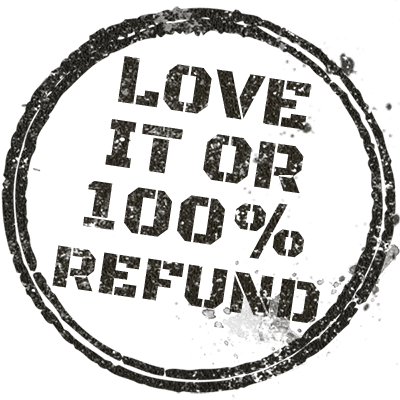 If the escape kit isn't what you were expecting just drop me a line and I'll send you a complete refund.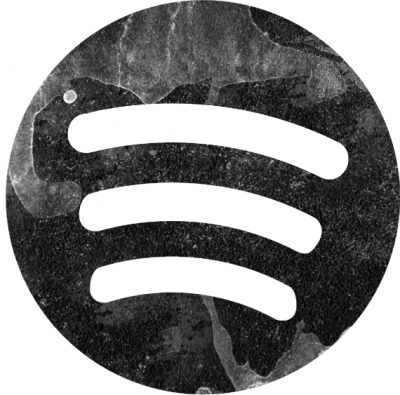 Custom Music for Mission Mojo
Perfect for small groups since it scales to any size
From 2 person family gatherings to teen escape birthdays, School classrooms, and youth groups.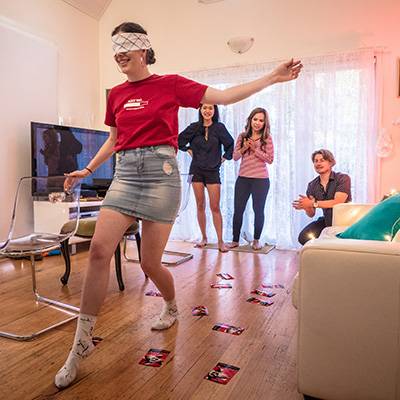 Escape rooms are one of the best team building activities ever. They require constant communication and challenge players with healthy conflict.  The Rebel Revolt kit takes this to the next level by creating a competitive environment where teams simultaneously battle for King of the Hill. Just print out a copy of the game for every 4 players.
Here's what the event looks like with larger groups:
Split the group into several teams of 4 people that will race for King of the Hill.
Each group can play simultaneously.
Teams require 1-2 mobile phones so they can look up hints in the Mission Guide and complete some of the challenges. The Survival Guide also contains solutions so if you have super competitive teams make players come to you where you'll give them the hint but they'll receive a time penalty.
The winner is the team that scores the highest points at the end, so there's no need to set a timer unless your day requires it.
Make a big event out of revealing the winning team since this will be a highlight of the challenge.
The weapon of choice for rebels around the world
4.8/5 stars on Facebook. We love to thrill!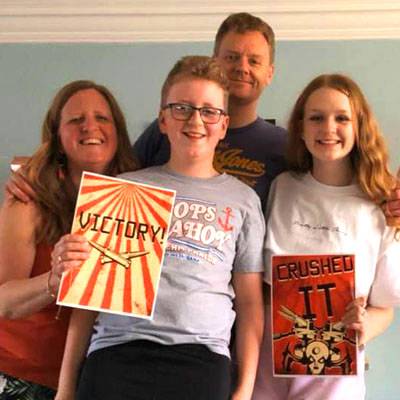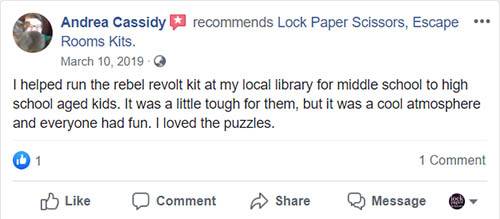 How to customize the game
This is a great way to get into designing your first escape room since a lot of the grunt work has already been done for you.
For example, adding real life combination padlocks or customizing the game for a friends birthday or corporate team building.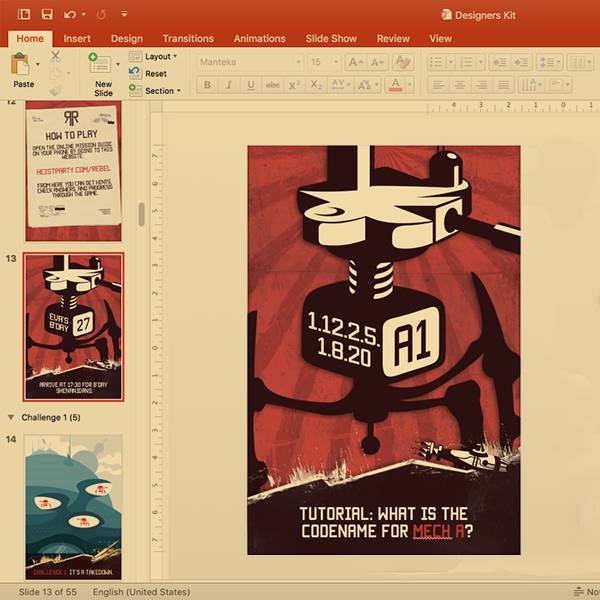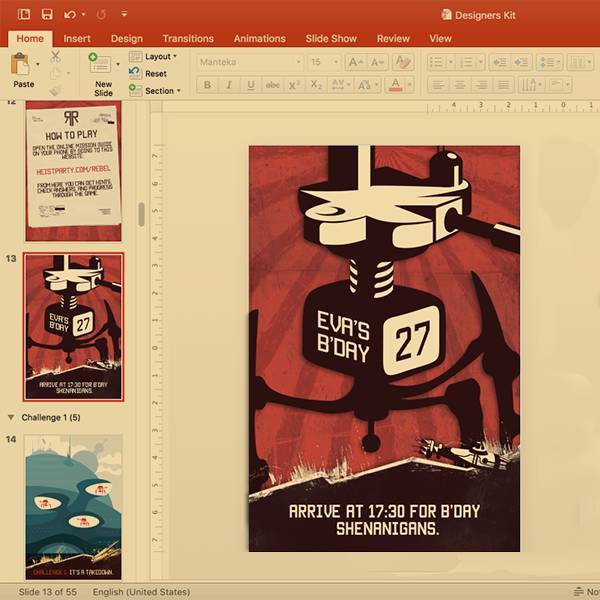 Also great for corporate team building days and events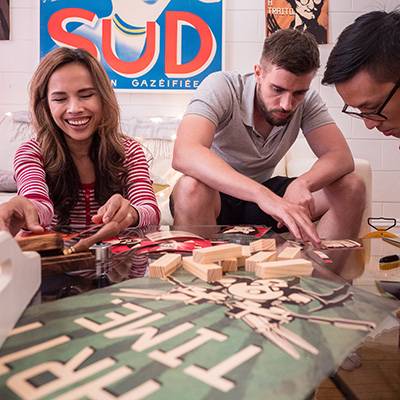 The Rebel Revolt kit will take 30-60 minutes to set up and can be printed multiple times to scale to any group size (I've had a group of 130 people at a conference run one of the party kits).
When running the game:
Set the game up by following the Setup Guide. If space is limited just place all the puzzles in the middle of each team's table rather than spreading them out.
Set a 60-minute timer.
As the Game Master, you'll be the one giving out hints. This is super easy as they're all in the Mission Guide. Just open it up, on your phone, and when a group asks for a hint you can read them out.
Set a time penalty for using a hint (2 minutes for a hint or 5 minutes for a full solution). Just do a tally of these and deduct them from the final times at the end.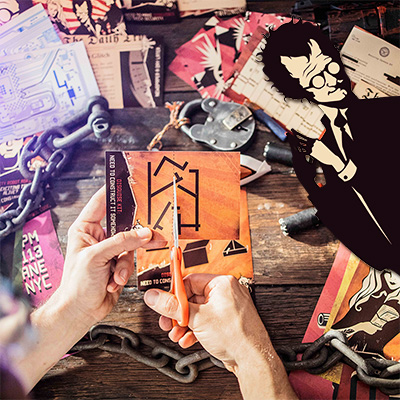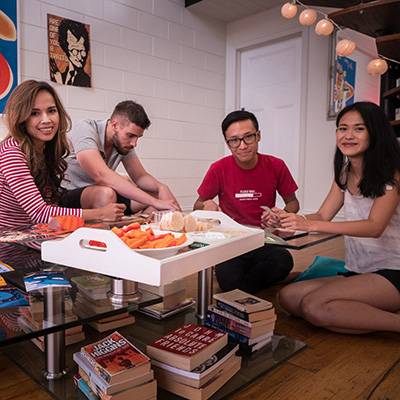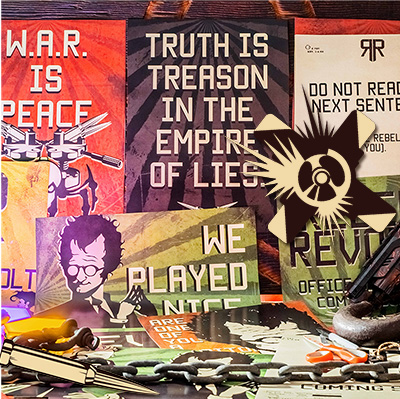 Download the Complete DIY Escape Room Kit and Play Today:
Purchase, Print And Party With The Rebel Revolt Escape Room Kit Today For Just $29.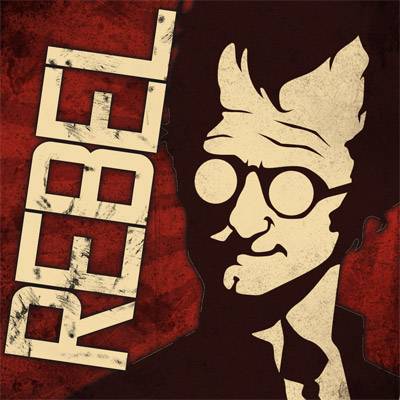 Or... Save Cash By Getting A Bundle!
We've thrown our best escape room games into themed boxes bursting with fun. This means you're about to have entertainment sorted for every upcoming anything.
Click the escape box below that suits you best and get ready to become the fun champ!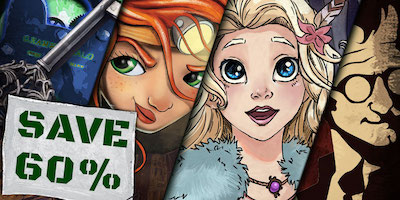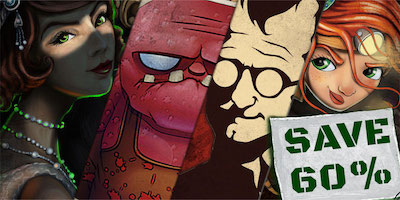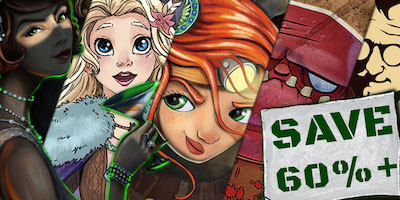 Kids Box
4x Escape Room Kits
Lost Mummy
Rebel Revolt
Escape Quest
Frost
Bonus: Treasure Map pack
Big Box
4x escape room kits
Envy
Escape Room Z
Lost Mummy
Rebel Revolt
Bonus: Skulls Card Game
VIP Party Box
6x escape room kits
Envy
Lost Mummy
Escape Room Z
Rebel Revolt
Escape Quest
Frost
All 5 Kids Educational Games
Bonus: Treasure Map pack
Bonus: Skulls Card Game
Bonus: Halloween Pack
Bonus: Thanksgiving Pack
Bonus: Christmas Pack
VIP early access to games
Lifetime FREE copies of all future games. Boom!