13 Simple Tips For A Cheap Halloween Party They'll Adore!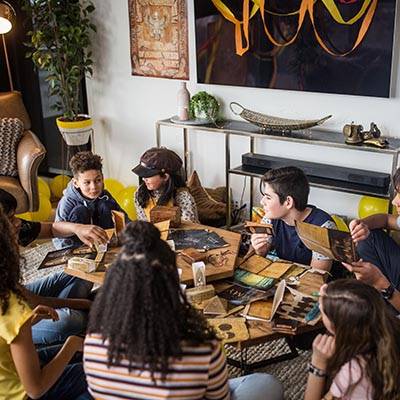 Make sure you spook your guests, not your wallet! Here's how you can host a budget-friendly Halloween party WITHOUT scaring away your friends.
Well my fellow adventurers, we've officially done it: We've reached OCTOBER! Around the neighborhood, ghostlings are creeping out of the bushes, spiders are dangling from the trees, and I'm pretty sure that's a witch's snout protruding from the nearest window… Or maybe that's actually the neighbor? Annnnddd moving on…
Now if you're anything like me, you're probably still lying to yourself: Halloween is still about 2 weeks down the road- you have PLENTY of time to get your act together, finish organizing your guest list (no, your parents don't count), decide your food options, choose your costume, decorate the house, come up with games and entertainment… plenty of time... right?
Wrong! If you don't want to find yourself as unprepared as a horror-movie victim, you'd best start now.
We've got you covered! This DIY Halloween party guide has all the tips and tricks you'll need for an absolutely spooktacular event. The best part - you won't need a dragon's fortune to afford it!
Step 1 - Plan Your Adventure
What's the difference between embarking on an epic quest, and throwing a cheap Halloween party? Surprisingly... not much! For both, you'll need friends. You'll need a base. And you'll need a plan.
No one ever slew their dragon without a heckovalot of patience, planning, and a little luck. And trust me... house parties are waaay scarier than dragons!
So make sure you've got your plans straight before you dive right in. Here are our top DIY Halloween party 'rules of engagement':
Make sure your guest list is manageable!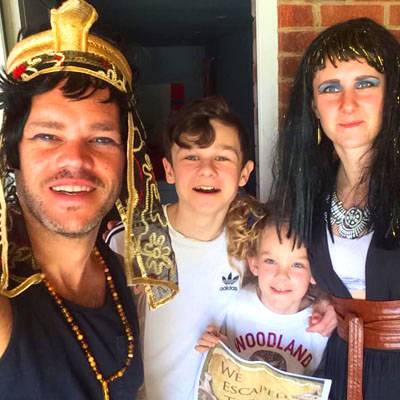 First, be honest with yourself. You only have so much food, and at least half of those who swear they'll bring grub will arrive empty-handed. You'll end up with wayyyy too many chip bags and apologetic grins (though if you compensate with the punch, there's a chance no one will really notice by the end of the night).
Plus, if you're the hostess-ing type, you'll find yourself endlessly bouncing between friends and missed connections all night long!
A smaller group will allow you to connect with the most important people in your life, without breaking your monthly budget on food. 
Choose a cheap (or free!) venue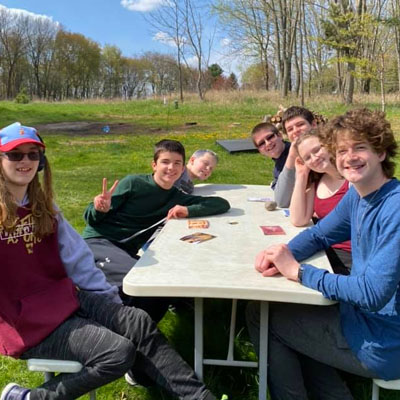 Unless you've made your millions in the tabletop industry, let's not go bananas with the venue.
Now, you could choose your parents' basement... but this isn't 'That 70s Show'. No one actually enjoys hanging out in your parents' half-finished basement, with your mom circling for another round of just-juice while your dad is trying to explain the best method for changing the oil in your second-hand Toyota Camry. Now there's its own horror story!
If your house isn't quite up to snuff, or you don't own a respectable cave nearby, you can try finding a free public landscape: local parks, maybe a community centre or a nearby library.
Be sure the place you choose isn't too cramped, while also making sure there aren't too many holes to disappear into – because who likes to discover they've lost all their guests before hide-and-seek actually starts!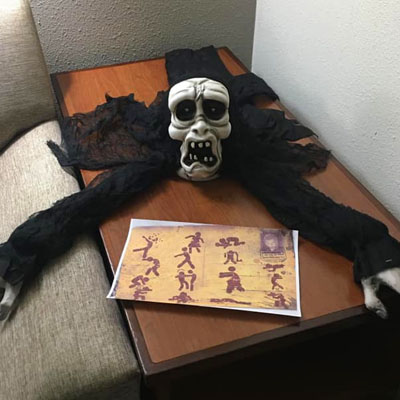 While throwing a party on Halloween is of course the ideal, be sure to check in with your party-peeps first.
You might find it more forgiving if you don't try and compete with Halloween day. A pre-Halloween party will be easier on your friends' schedules, and jumpstart all the spooky feels to boot!
Alternatively, why not host your party after Halloween day? For real! Everyone still has their costumes, plus, you can grab all those seasonal goodies and Halloween decorations at half-off.
Give yourself a little slack - you're awesome!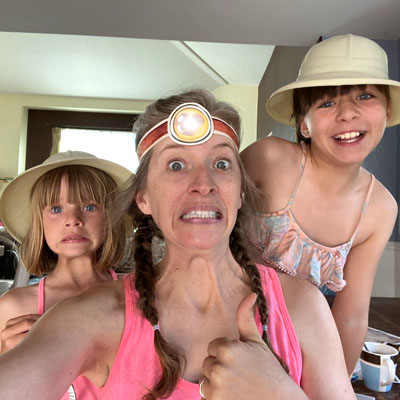 If you're judging your party based on the most recent episode of Keeping Up with the Kardashians, you're more likely to fail miserably.
Trying to do everything at once has never worked out well for anyone - except maybe Legolas... but he doesn't count! Give yourself the grace of being, well, human. Do one or two things really well (such as games!) and everything else will fall into place.
Don't stress over your party games. We've got you covered:
Step 2 - Prepare Your Haunt....
'Spookifying' your party doesn't have to be terrifying for your wallet too.
One word. Dollar Store. We all know those Halloween-dedicated stores that sell you sheets over a stick for twenty dollars plus. Don't be their sucker. Start at the most affordable spots (Dollar Store, thrift stores, your grandma's attic, etc.) and work your way up.
From there, just remember JELMM: Junk. Eye-Catching. Lighting. and Mood Music. Clear as a bog rat flying out of tree at eye level, right? Let's break it down a bit. 
Junk: Get creative with your stash-o-stuff
Before you even hit up that local attic (I mean, Dollar Store), be sure to run through your own supplies at home. The key with DIY Halloween decorations is to up the 'weird-factor' as high as you can.
Run through your Etsy list and scale your Pinterest tutorials. There are loads of cheap ideas out there, like:
Empty milk bottles with plastic eyes and LED lights become counter ghosts.
White sheets over your as-of-yet-unstained living room furniture adds an abandoned feel to the home (and the length of time between dusting your house certainly helps).
Find (washable) red paint to splatter on the tile in your bathrooms.
Old dolls from your grandma? Stick 'em in the rocking chair.
Cobweb up your brooms to strategically stick in the corners.
Tilt all your photographs at a slant to strike a sinking vibe.
I mean honestly, you really can just make this stuff up.
Eye-Catching: Draw their attention... like a magician!
Remember your goal is to create a fun/spooky atmosphere for your guests. So you don't need to create a scale replica of the haunted mansion!
All you need to do is draw their eyes to a focal point.
Choose one spot, one room, to out-do yourself with a centerpiece that boggles their brains. Then, don't stress about adding décor to every room in your house.
You can put odds-and-ends in strategic places, but allow your centerpiece room to shine – or cast darkness, depending on your theme.
Lighting: It covers a multitude of sins...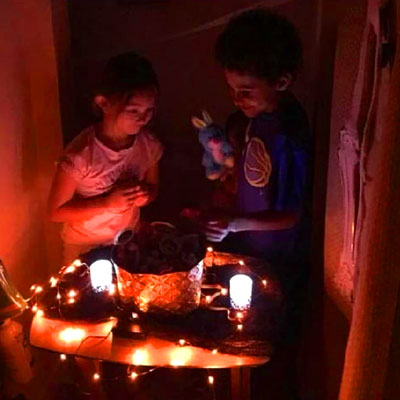 Instead of focusing on expensive décor, set a mood over the whole house with your strategic lighting. (DIY Halloween decorations can seem sort of... strange, in full light.)
Black out the windows. Set half-melted candles on the piano and the window sills. Change certain room lights to colored bulbs or drape cobweb over your hanging lights (Safely. A house-fire does NOT set the right mood for your guests.).
For those on an absolute shoe-string budget, tying pillowcases around your lights (use that shoe-string!) will cast a ghostly glow across the room.
Remember, the right mood lighting will cover for many a tacky (or half-baked) idea.
Mood Music: Polish it off with some hair-raising tunes!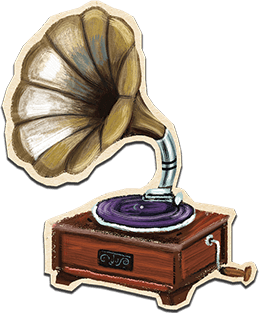 Nothing will chill your spine like a beleaguered cello wailing out its last moments. Or, if you're a traditionalist, put that Monster Mash on repeat!
Sound and light are a powerful combination to kickstart your guests' imagination, or help them feel right at home.
Your music will be your finishing touch, the coup de grace, so make sure you choose a killer vibe.
Decorate for Halloween instantly!
Our printable escape room kits come with thematic posters and stylish photo booth props to deck-out your Halloween party easy. (and did I mention, cheaply?!)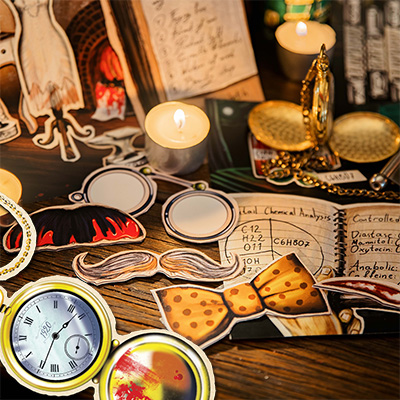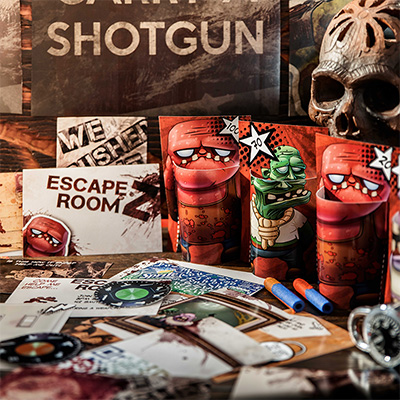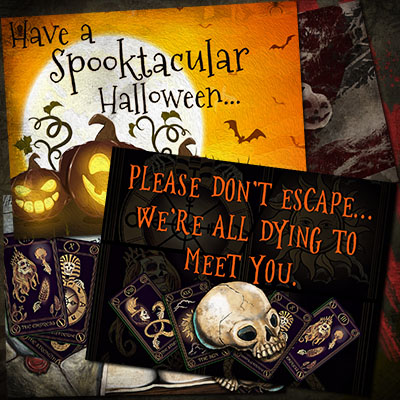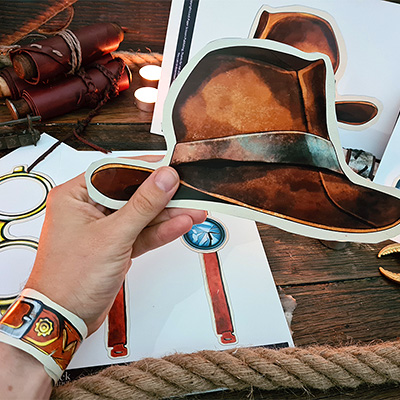 Step 3 - Cook up some trouble
Now, I know most of us aren't master chefs. So cooking Halloween cuisine seems a bit of a tall order... sort of like climbing Mount Doom!
Fortunately, it's actually really simple to whip up some quick and easy Halloween party food. Here's how you can cater for your whole Halloween party without breaking the bank: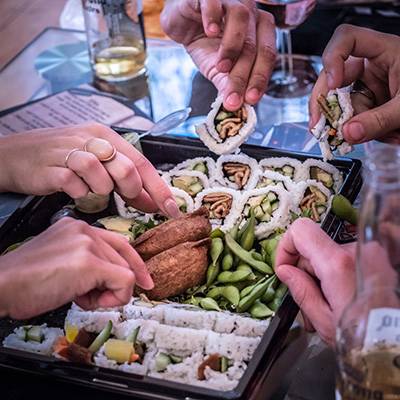 Who says that you have to host a grand banquet?
If you can only really afford finger-food options, don't kill yourself making a five-course meal.
Let everyone know snacks are on the house, but if they're coming starving, they'll have to fight the spook under the porch for that side of cat he's gnawing on.
Go simple... but make it weird!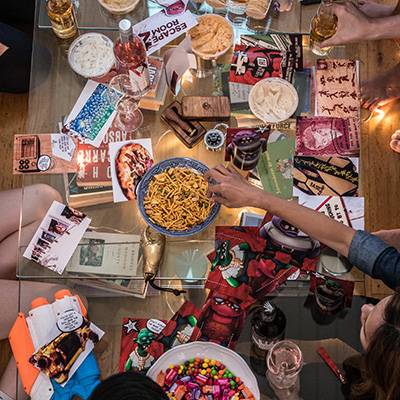 Forget that oozing three-tiered monstrosity of a cake that you just scrolled past on Facebook. No one has time for that! Instead, choose regular cheap party food and try adding just a sprinkle of 'unusual' to each.
Add little black 'eyes' with whole pepper corn to your pigs in a blanket.
Freeze juice in a rubber glove, then pull off the plastic glove and dump your 'hand' in the punch bowl.
Add labels to everything. Is it sloppy joes … or scrambled pig brains? Ketchup… or vampire blood? Lemonade… or … you get the picture.
Grab a bunch of oranges or mandarins and poke a little celery slice in the top to make 'mini-pumpkins'.
Do shots of …juice… in syringes on a platter.
Honestly the list goes on. Just google 'easy creepy Halloween food' and scroll through the images.
Get your friends involved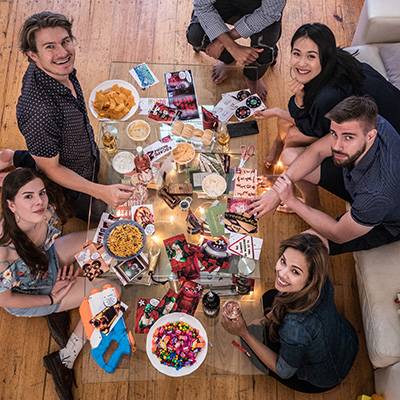 Make it a win-win where you can.
For those things that you have no strong feelings on – drinks, chips, vegetable sides, buns, etc.- tap a friend in.
Make it a potluck and breathe a little easier the day of. Your pocketbook will thank you.
Step 4 - Let The Games Begin!
Unless you're going for a zombie-apocalypse vibe (where your guests just stand around groaning), you'll need to plan something to do! Fortunately, you've got more budget-friendly Halloween game options than the zombie horde itself.
Now, of course, a printable escape room game is your best bet for a totally thrilling Halloween party. After all, what other party asks you to escape an ancient Egyptian tomb before dessert?
Need a cheap Halloween game that's actually FUN? 
Whisk your guests away on a pulse-pounding escape room adventure this Halloween. All you need to do is print out the escape room kit to instantly level-up your event! 
We've worked hard to make sure that this is the ultimate cash-saving Halloween party game in your arsenal. Just buy a single copy, and you can cover any party size.
Step-by-step setup guides and minimal prep times mean that you can finally kiss party stress goodbye. Plus, did I mention you can play it with kids and adults? Yep, you can thrill the whole family!
Need a more classic Halloween party game?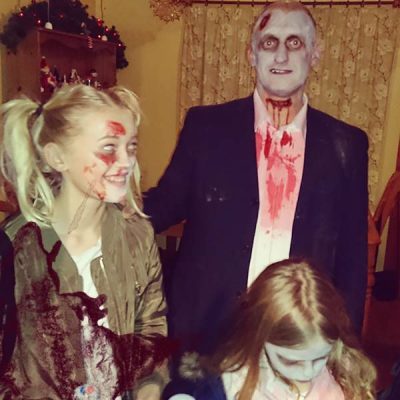 No worries. Pretty much any classic party game can be rethemed to do the trick. Such as:
Add a spice of competition to the costume party and declare a costume contest! If you let everyone know ahead of time, you can be sure they'll put as much effort into their attire as you are into your party.
For those of you ready with a knife in hand and a jack-o-lantern grin, try starting everyone else off in the right mood with a pumpkin carving contest. Select a theme, limit the tool options, and let the pumpkin guts fly!
If you've got a bunch of cute hobbits appearing with their parents, take a brief lap around the block for a bit of time trick-or-treating. Depending on your level of commitment, you might even get away with it using a group of college friends too… though you'll have to try much harder on the cuteness factor.
Try playing musical ghosts. Circle everyone up just like musical chairs, then throw a sheet over each one's head. You'll want to make sure to have a big room for this one, or you might have some friends sporting real black eyes underneath their Edward Scissorhands makeup.
Lace-up for a mummy race. This one's exactly like it sounds. Have each person wrap up their neighbour with bandages for a mummified race to the end of the lawn! Depending on how excited everyone gets for this one (and how many bandages you have), feel free to mummy up as high as it can go.
How To Run Your Halloween Escape Room Game
Playing with a printable escape room kit is such a sure-fire quick-win it's basically a no-brainer!
Setting up for the game is quick and easy. Plus, setup is entirely spoiler-free, so you can play along with your guests too! Here's what you need to do: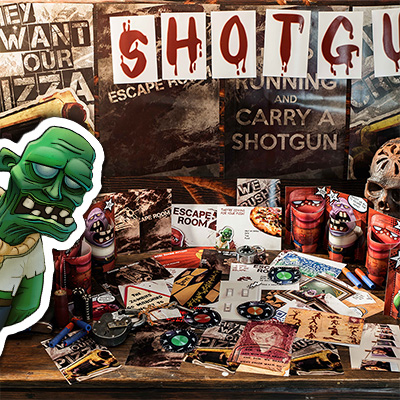 First, browse through our list of themed kits and choose your favorite game. We recommend you print off one copy for each group of 2-5 people who will be attending.
Set aside a dedicated space for each group. Be sure to decorate your primary room with the printable posters bundled with the game.
Then, either hide the puzzle sheets around the room (like an escape room!) or give them all the puzzle sheets and shout "GO!"
To encourage the competition, start a timer and have each team race to finish. The first team to solve their game and escape wins ultimate glory (and possibly a popcorn ball or some other set-aside prize)!
And finally, give everyone the time to wind down with snacks and an opportunity to exchange their stories and share laughs. After all, what good is ultimate victory if you don't have glorious war stories to swap around the fire?
It's Time To Host Your Best Halloween Party Yet!
And now, my favourite readers, we've climbed Mount Doom, thrown our easy Halloween party food down its gullet, and we're ready for the orcs to invade! I mean guests. We're ready for the guests.
Everyone is showing up in their Halloween best. The room is terrifying. The food on-point (if we do say so ourselves). The best part of the whole experience….you didn't kill yourself or your budget. Just be prepared... everyone will be asking for another Halloween escape room party next year!
And now that our headspace pre-planning sesh has ended, it's time for you to GO FORTH AND CONQUER!
Instant Halloween Party - Choose Your Favorite Escape Kit
Or... Save Cash By Getting A Bundle!
We've thrown our best escape room games into themed boxes bursting with fun. This means you're about to have entertainment sorted for every upcoming anything.
Click the escape box below that suits you best and get ready to become the fun champ!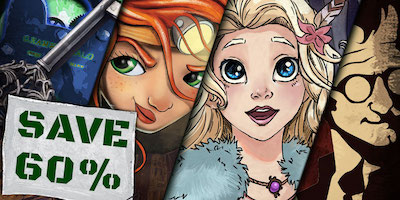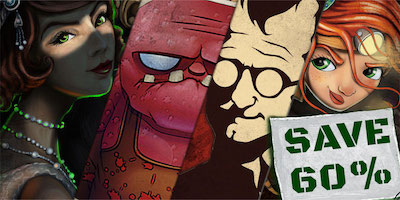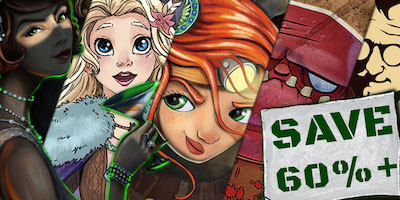 Kids Box
4x Escape Room Kits
Lost Mummy
Rebel Revolt
Escape Quest
Frost
Bonus: Treasure Map pack
Big Box
4x escape room kits
Envy
Escape Room Z
Lost Mummy
Rebel Revolt
Bonus: Skulls Card Game
VIP Party Box
6x escape room kits
Envy
Lost Mummy
Escape Room Z
Rebel Revolt
Escape Quest
Frost
All 5 Kids Educational Games
Bonus: Treasure Map pack
Bonus: Skulls Card Game
Bonus: Halloween Pack
Bonus: Thanksgiving Pack
Bonus: Christmas Pack
VIP early access to games
Lifetime FREE copies of all future games. Boom!